I have had SO much zucchini and squash this season. It has been cooked many different ways. I have shared fresh produce with friends and co-workers, mall folks, anyone who would like it. As my zucchini season begins to slow, I am grating the rest of the zucchini and freezing it for future breads. This recipe belongs to Paula Deen. We all know and love her. She doesn't let me down with this one. It is so delicious and moist and a real hit.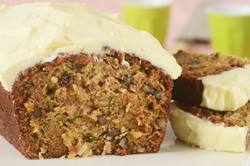 Ingredients
1/2 teaspoon baking powder
1/2 teaspoon ground cinnamon
1/2 teaspoon ground nutmeg
2 teaspoons vanilla extract
1 cup semisweet chocolate chips
Whipped cream, for serving
Zucchini ribbons, for serving
Directions
Preheat oven at 350 degrees F. Grease (2) 9 by 5-inch loaf pans.
Sift together flour, baking powder, salt, spices and baking soda.
In a large bowl, beat eggs until light and fluffy. Add sugar, and continue beating until well blended. Stir in oil, vanilla, zucchini, pecans, chocolate chips, and orange zest. Stir in sifted ingredients. Pour into prepared loaf pans.
Bake for 50 minutes, or until a skewer inserted in the middle comes out clean. Remove loaves from pans and cool. Chill before slicing. Serve with whipped cream and ribbons of zucchini.
This is my Pampered Chef piece of stoneware I used to bake my loaves. Absolutely perfect every time. If you don't own a piece, try to find a rep; its great baking stuff.
GOV Inspection
Just another quick note about my weekend for my horsey friends and those who are interested - I visited my friend's farm (Wellsmont Farm) who hosted the GOV (German Oldenburg Verband) foal inspections Saturday. I think 13 foals were presented. My Ally and friend braided the babies and Mom's manes for the inspection. They looked so really cute, oh goodness. Many were entered into the registry and microchipped. The rain held out and it was a beautiful morning.