It's a Smile, It's a Kiss, It's a Sip of Wine, It's Summertime - Sweet Summertime

Well, we have suffered through some record setting days of 100 degree weather this season. I think it could be a sign of what the new "normal" might be. Last year was brutal as well and in '08, we had a drought. My pond has nearly dried up each season for the past several years. The blue heron doesn't even get her knees wet when she walks across it now.
The garden is worn down from extended days of high temps just like me. My tomatoes started off like a bang, full and healthy, big things, along with all the peppers, but produced so poorly in the heat. I've heard talk of farmers modifying or tweaking their planting schedule pushing tomatoes up a little and peppers back. That might work, but you know Mother Nature - she's very unpredictable. Just when you think you have it figured out, you get screwed again.
With the above said, I've started taking down what is beyond help. I've already pulled tomato stakes up along with the old rugged brown tomato plants. I will make several big bouquets of my beautiful zinnas and then mow them down. I'm ready to move on. It's been a huge battle between me and the squirrel this year and I wave my flag - I surrender!
My herbs are just about the only thing that have withstood the heat. Rosemary, from
The Summer Porch
, gave me ideas for making herbed vinegars which turned out nicely. I had never thought of doing something like that. I will probably continue working with the herbs, weeding, watering, etc. I think I'll be able to do a little more pesto. I love tying up bundles of rosemary and lavender and hanging them in my bathroom. It's a very nice somewhat-organic fresh aroma smell that just floods the room.
Soon the price of hay will go up another buck or two, so I'd like to get on over to Mr. Agriculture's farm and pick up 100 or so more bales. The
yellow jackets
got in my hay this year. That was insane. You don't know they're in the bale until you go to lift one and out they come! Now that would have made a video!!
**************************************************************
An interesting piece of news for us North Carolinians this fall is ---- ta~da
INVASION OF THE STINK BUG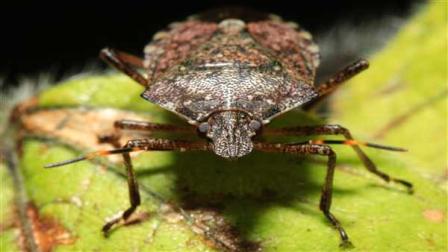 He only smells horrible when you squash him. The information is that there will be a lot of them this year. They will be arriving in the fall and will probably try to get inside of our homes - Wonderful, can't wait!
Hope all of you have a great weekend. Bring back something exciting! See ya, Debi